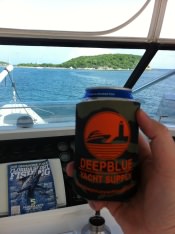 Founded in 2006, we operate on the simple theory that if we take the time to help you with your boating question, more than likely you will end up a happy customer, especially after you get the item at our wholesale prices.

...And that is what we have been doing for the past fifteen years. Answer any question, and help our customers get a better understanding of the boating world, from technical advice on propellers, to which cleats would work best on a particular boat, and everything in between.

Our main warehouse is conveniently located in Fort Lauderdale, FL USA, just outside of the famous "Marina Mile", and have 20 contracted warehouses throughout the United States to get you the right product, right on time. Our staff has over 100 years of combined experience in the Marine Propulsion industry to help answer any question you might have.

We ship all of our 25,000+ products to just about any location around the world and we will always look for the best way to get your boating item directly to you.
Deep Blue Yacht Supply offers the lowest prices in the industry on all the best brands such as Michigan Wheel, Duramax Marine, Zimar Zincs, Tides Marine, PYI Inc., SOLAS, ACME Marine, Volvo Penta, Buck Algonquin, PropSmith, and more.
Our Commitment to You


For boat owners around the globe, Deep Blue Yacht Supply is your trusted source for running gear and propellers. We are committed to satisfying our customers worldwide by providing superior product availability, technical expertise and customer service;

Expect the ultimate sales and service experience.

Hear From Us Daily


Stay up to date with everything we are doing by following us on Facebook, Twitter, and our blog!