Most boaters know about the importance of zinc anodes. Zincs, as they are called, protect the metals of a boat from galvanic corrosion. However, many boat owners are somewhat unaware that steps must be taken to make sure that their zincs actually work towards their intended purpose. If you want to make use of sacrificial zincs on your boat, you must make sure that the zincs are actually connected to the relevant metals and that the zincs are uncovered and able to be exposed to the sea water. Doing so is the only way that these items will provide the necessary protection.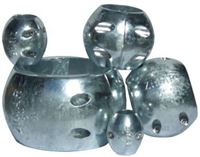 Your first step towards making sure that your zinc anodes are in working order is to make sure that they are actually in contact with the metal that needs to be protected. There are some individuals that think that, somehow, the zinc will act as a magnet for the corrosive elements of the sea water. In truth, though, the zinc must be in some kind of contact with the metal it is meant to protect. This means that you must either make sure that the zinc is making direct contact, or is somehow wired to the appropriate metal area. If this is done, the zinc anodes will properly work in a sacrificial manner.
You must also make sure that the zinc anodes are properly exposed for them to work. The entire purpose of the zinc in the zinc anodes is to be sacrificed, and covering up the metal can make the process work poorly, or not at all. As such, you must never paint the zincs on your boat. It is does not matter if you consider the metal to be an eyesore or if you want to maintain a uniformity of color - if the zincs are in any way covered, they will be smothered and thus rendered worthless.
If you want to make sure that your zinc anodes function correctly, it is important to take the time to really understand how they work. Once you do, you will realized that they must be both exposed to the sea water and in contact with the metals that they are meant to protect. This may mean a bit of extra work for you as a boat owner, but it will save you quite a bit on repair costs down the road. After all, the work put into these zincs will save you from more work on more important parts.